Address: Mercure Hotel MOA Berlin, Stephanstrasse 41, 10559 Berlin, Germany
GPS: 52.532171, 13.344161
Our conference venue Mercure Hotel MOA Berlin
How to book a room for your stay at our conference hotel MOA:
There is a limited number of rooms available in the MOA Hotel at a special conference rate
(€ 143/night incl. breakfast & VAT; arrival: 15 May, departure: 17 May 2023).
The keyword is: "Helmholtz-Zentrum für Umweltforschung"
Contact:
phone: +49 30 39 40 43 - 7306 | fax: +49 30 39 40 43 - 999 | email: nbl@moa.de
Download accommodation information for other hotels, hostels, etc.
How to get there
Arrival by car…
The MOA offers 550 parking spaces for reasonable prices and direct entrance to the hotel. The car park is part of the shopping centre "MOA Bogen", please enter Birkenstrasse 21 into your GPS. After the entrance barrier turn left, at the top deck you will find the direct entry to the hotel reception.
Arrival from the train station…
By Public Transport:
Please take S-Bahn no. S9 or S3 (direction "Spandau") and get off at the stop "Zoologischer Garten". Change to underground/subway U9 (direction "Osloer Straße") and get off at the stop "Birkenstraße". Our hotel is about 100 m away. At the top deck you will find the direct entry to the hotel reception.
You can also take bus no 245 direction "Zoologischer Garten" and get off at the stop "Turmstraße" and then by foot. approx. 10 min. (800 m) or take U9 (direction "Osloer Straße") and get off at the stop "Birkenstraße". The hotel is about 100 m away. At the top deck you will find the direct entry to the hotel reception.
Or take bus no 123 direction "Staatwinkler Damm/Mäckeritzwiesen" and get off at the stop "Stendaler Straße". Then by foot 7 minutes (514 m) to MOA Hotel. At the top deck you will find the direct entry to the hotel reception.
By foot:
Distance: 2,3 km
Time: ca. 25 min.
General Information (on site)
Registration Desk
The registration desk can be found at the entrance area called 'Atrium' of MOA hotel. It is open as follows:
Monday, 15th May, 9:00 – 18:30 | Tuesday, 16th May, 8:00 – 18:00 | Wednesday, 17th May, 8:00 – 15:30
If you require any assistance throughout the conference, please see Susanne Lange and/or Lena Roos at the registration desk. A conference notice board is placed at the registration desk. It is used to display conference information, programme changes, announcements, and messages. Please check the board regularly. Contact phone number during conference: +49(0)176 200 74 216.
Luggage
Please note that only limited storage for luggage is available at MOA hotel. If possible, please store your luggage at the hotel where you are staying.
Name Badges
Please wear your name badge at any time.
Photos
We would like to provide a small photo gallery for all participants after the conference. Hence, photos will be taken throughout the conference. Please approach us at the registration desk in case you do not wish to be photographed.
Smart Phones
Please ensure that smart phones and /or pagers are turned off or switched to silent mode during all presentations and discussions.
Refreshment Breaks
Coffee breaks will be served at the Atrium.
Lunch will be served in the Atrium and MOA-Restaurant (located on the same level as conference rooms).
If there is not enough space or foot shortages occur at your chosen lunch destination, please proceed to the other one. Each area will provide lunch for half the number of participants. The restaurant offers seating areas. Feel free to have a look at the posters while eating in the Atrium area. Both areas are attractive.
If you have informed us of your special dietary requirements, please ask caterers for personalized meals.
WI-FI Access
For WI-FI access, please choose the network "MoaBerlin". Confirm general terms and conditions and log in.
Oral presentations
Regular oral presentations (except plenary and keynotes lectures) last 15 min including discussion.
We emphasise the importance of starting and finishing on time – for parallel sessions to stay synchronised. Session chairs were instructed to ensure you do not exceed your allocated time (yellow card – "time to wrap up" and red card – "time is up").
Presenters are asked to sit in the front for a fast changeover of speakers.
Please arrive at your session room at least 10 minutes before starting session time and check your presentation runs correctly.
All presentations must be MS PowerPoint files (2007 or 2010) or PDFs.
Please bring the file on a memory stick and ensure the presenter's name is part of the file's name. We suggest bringing a backup copy of your presentation file on a second memory stick in case of data corruption or other unexpected IT difficulties. Mac users should test the compatibility of their presentations on Windows beforehand.
Poster Organisation
All posters will be displayed during the complete conference.
There are two poster sessions:
Monday 15

th

May 15.00 – 16.30 – topics: 2 / 4 / 5 / 8
Tuesday 16

th

May 13.00 – 14.30 – topics: 1 / 3 / 6 / 7
We kindly ask all authors to stand beside their poster during the entire time of your assigned poster session. Poster presentations are not in conflict with any other conference activities. All attendees can actively participate and network.
Posters are organized by numbers (see poster list).
Presenters should mount their poster before Monday 15

th

May 12.00 am to their respective board identified in the conference programme.
Materials (pins) to fix posters to boards are on the poster boards or can be collected at the registration desk.
Poster format is A0, portrait.
Posters must be removed immediately at the end of the conference.
City: Berlin!​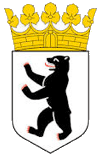 For more information, please visit the official webpage of thecity Berlin or visitberlin.
Berlin is the capital city of Germany and offers a tremendous number of interesting cultural events, museums and sightseeing attractions directly in the city and its surrounding area. Berlin is the "gateway" to the eastern part of Europe. The city is easily reachable and the site of many significant political milestones not only in the history of Germany but of Europe and the world.
Twenty five years after the fall of the Berlin Wall, the capital has its own attraction. She projects itself as a modern, cosmopolitan and creative city at the heart of Europe.
For every visitor, the city offers a very personal experience: from cultural institutions such as museums and operas to partying in one of the many clubs. Nearly no other city has survived such a moved history, has so rapidly changed and invents itself new again and again. And for those who look for relaxation: In Berlin a fast paced metropolis and relaxing rest areas in nature are not far apart. Whether in Tiergarten, Tempelhofer Freiheit or Grunewald – every district has its green oasis.
​